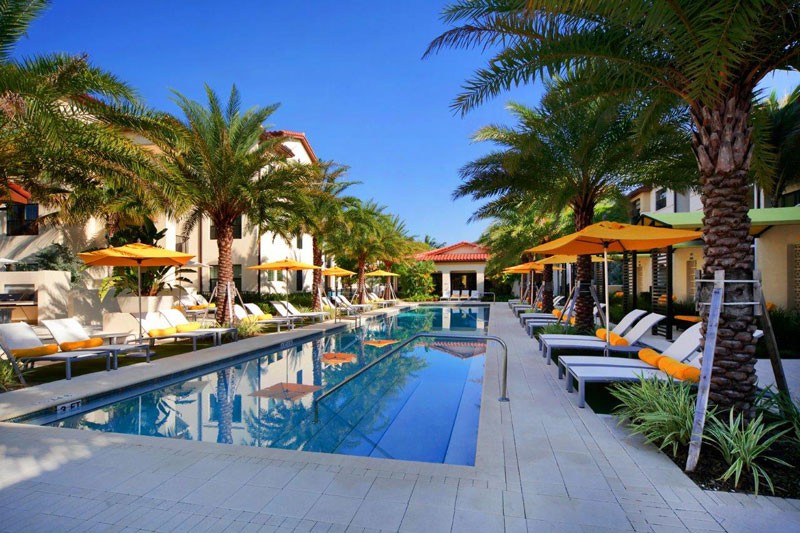 Jefferson Palm Beach
is a 282‐unit rental community on 11 acres, situated in West Palm Beach, with easy access to downtown West Palm Beach and its popular employment and recreational hubs. Completed in 2015, the property offers a mix of one‐, two‐, and three‐bedroom luxury apartments. Jefferson Palm Beach is located within an infill neighborhood with a dense renter population and ample retail amenities.
Completed by Jefferson Apartment Group (JAG) in 2015, this trophy asset is truly "Best in Class" with a prime location in one of the top performing submarkets in the region.
Jefferson Palm Beach offers spacious one-, two- and three-bedroom floor plans equipped with full-size washers and dryers, stainless steel appliances, private patio/balconies, 9' ceilings, woodstyle flooring, and oversize walk-in closets.
In addition to for-sale quality unit features, the residents enjoy an array of amenities, including a chic clubhouse with Wi-Fi bar, resort style pool with private cabanas, state-of-the-art fitness centre, outdoor billiards lounge, and an outdoor terrace with TV lounge seating, kitchen, and grilling area.
Located less than a 1/2 mile from the new Palm Beach Outlet Mall and the Marketplace at the Outlets – featuring over 100 stores including Whole Foods Market, Bed Bath & Beyond, Nordstrom Rack, Brooks Brothers, and Saks Fifth Avenue Off 5th.
Jefferson Palm Beach represents a brand new multi-housing community near the major employment center of downtown West Palm Beach – with over 3 million square feet of office space.
Only 10 minutes from West Palm Beach's Clematis Street District and CityPlace, two of the most popular retail and entertainment venues in South Florida, offering fashionable martini bars, trendy night clubs, elite boutiques, and dining options.
Just a short drive from Palm Beach are land attractions, including the famous Breakers Hotel, world class shopping on Worth Avenue, and beautiful South Florida beaches.
From 2008 to 2013, the U.S. saw a remarkable shift in the mix of owner and renter households.
Population among the 20 to 34-year-old age group was among the key drivers, which grew faster than the total population – 6.5% compared to 4.0%.
The prime renting age group grew faster in Florida than the state's total population – 9.8% compared to 6.7%.
The South Florida region experienced much stronger growth rates in the prime renting age group with Miami at 23.3%, Fort Lauderdale at 21.0% and West Palm Beach at 15.4%. By comparison, the total population grew by 9.1% in Miami, 8.4% in West Palm Beach, and 5.0% in Fort Lauderdale.
As employment opportunities become more plentiful for young adults, South Florida has an incredible chance of leveraging growth into stronger apartment demand for years to come.
According to MPF Research, as of Q3-2015, the average rent per square foot in the West Palm Beach submarket increased by 6.8% compared to the same period last year.
According to MPF Research, average occupancy in the metro area as of Q3- 2015 was 95.5%.
MPF Research reports that occupancy in West Palm Beach submarket was 95% as of Q3-2015, up 20 basis points over the previous quarter.
Only two market-rate apartments were delivered within the submarket over the past 12 months – Alexander Lofts, 85 units in downtown West Palm and Cameron Estates, 548 units just north of Jefferson Palm Beach.